Free Overnight Tracked Delivery
Over tweezed? Looking a bit thin or patchy? LiBrow is the second chance you never thought your eyebrows would get.
No other eyebrow conditioner on the market uses true cosmeceutical technology to give you full, bold brows.
Thick, bold eyebrows in only 6-8 weeks!
Physician formulated & clinically tested
The only eyebrow conditioner with active ingredients
Safe for sensitive eyes and skin
Gentle, natural tinter to subtly darken brows over time
You too can experience the confidence of full, bold brows like thousands of delighted Beauty Lounge customers!
Size: 6.0ml (6 month supply)
Only The Beauty Lounge gives you:
Our exclusive 90 Day Bolder Brows Money Back Guarantee
Authentic, new, fresh, hologram seal stock from official NZ supplier
6+ years of LiBrow sales experience and advice
Genuine LiBrow Guaranteed - Hologram Security Seal Authenticated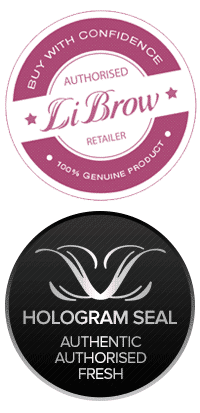 We sell only 100% authentic, genuine, brand new LiBrow which we get from the official New Zealand distributor, BeautySpot.
We've been an authorised stockist longer than just about anyone in New Zealand (around 6 years) and have tens of thousands of delighted customers. We're the largest retailer of LiLash and LiBrow in New Zealand and give you our exclusive 90 Day Bolder Brows Guarantee.
You can find us on the official LiLash New Zealand website under "Where to Buy". Just type "Takapuna" into the suburb field to find us.
We never have and never will muck around with counterfeit product, our hard-earned reputation is not worth risking to save a few dollars.
The easiest way to check for authentic and fresh product is to look for the hologram security seal on the side of every LiLash and LiBrow box. Any stock without the hologram security seal is old stock and potentially not genuine.
You may also like…
No other eyebrow conditioner on the market uses true cosmeceutical technology to give you full bold brows.
Use the unique applicator to apply LiBrow daily to the skin in areas where your eyebrows need the most help.
Patchy uneven brows and weak overplucked arches will all benefit from LiBrow's unique technology. LiBrow is the second chance you never thought your brows would get!
In 6-8 weeks of regular use watch your brows pop! A patented botanical tinter will accentuate the natural color of your brows for an even bolder look.
Usage Directions
Wash your face, and brows specifically, with a mild cleanser. Make sure the brow area is clean and dry without any makeup/cosmetic product residue. Using the application wand, apply Librow very sparingly to those areas of your brow that are thinning or sparse. The formula is extremely concentrated and only one small stroke is required per treatment.

Important Please make sure to apply Librow directly to the skin in those areas of the brow where effect is desired. Applying the product directly to the hair will not give the desired results. Librow must go through the skin to reach the hair follicle where it will work its magic.
There is a natural botanical tinter in Librow. This will work gently over time to accentuate the color of your brow hair. This effect will not be too dramatic, so don't worry.
Almost everyone will tolerate LiBrow without any skin or eye irritation. If you find that you are sensitive to LiBrow for any reason just decrease the amount you are using. If irritation persists then discontinue use completely.
Under no circumstances should LiBrow be used for conditioning the eyelashes. That is why we created LiLash. Please refer to the product insert for further information prior to using Librow.
Common Questions Answered
How long does it take to start seeing results? Results can appear as quickly as 3-4 weeks, but in some cases can take 8-12 weeks. Patience is the key; stick with it – the results will come!
How long will one tube of LiBrow last? Your tube of LiBrow will last for up to 4 to 5 months with daily application. Once opened, the ingredients will remain active for 12 months. If left un-opened, 24 months.
Tell me more about the brow tinter in LiBrow? LiBrow's patented brow tinter contains natural botanicals that gently darken your brows by enhancing the pigment of your natural hair color. Expect your brows to be tinted 1 to 2 shades darker for beautifully enhanced definition.
Is LiBrow safe during pregnancy and/or breastfeeding? LiBrow has not been tested in all situations; therefore we do not recommend using LiBrow during pregnancy or breastfeeding.