★★★★★
The best Mascara I have ever used! I have always struggled to find a mascara which does exactly as advertised, this one definitely does.
Review from customer Erica Styan
Avante Mascara has an active ingredient to help with promoting longer lashes
Natural Ingredients such as Xanthan Gum, Jojoba Seed Oil, Castor Seed Oil to condition and provide nutrients to the Lashes.
Scented with Rose Flower Water
Nutritional vitamins to strengthen and condition your lashes
Easy application, smudge proof
Dynamic curved brush for uplifting all lashes
Size: 5ml
How to use Avante Mascara
Our brush has been designed to ensure that you capture all hairs across the upper and lower lids.
The tapering end of the brush ensures that you capture and enhance the smaller/finer lashes that exist in the corners of the eye, thus maximising glamour and appeal.
Our brush is designed to mimic the shape of the eye capturing every lash.
With the arch of the brush toward the top, apply from the base of the top eyelash upward to the tip allowing the fibres to lift your lashes. Repeat from the inside towards the outside of your eyelashes capturing the corner lashes giving you the enhanced dramatic effect
With the hydrating and conditioning agents within Dynamic Effect, the Mascara will last all day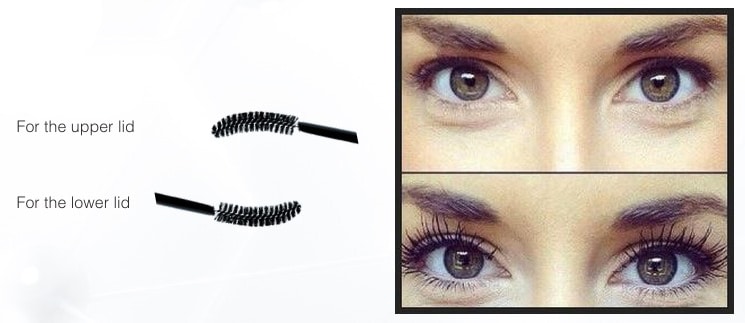 Ingredients
OSE FLOWER WATER
Purified water with the delightful scent of rose petals
CASTOR SEED OIL
Softening and conditioning. Anti Viral and anti microbial properties. Also contains natural inflammatory properties
CETYL ALCOHOL
Allows the moisture in the Mascara to evaporate and preservative
SORBITOL
Is our solvent and adds to the texture of the mascara
TRICAPRYLIN
Emollient and conditioning agent. Derived from glycerin and caprylic acid
HYDROLYZED JOJOBA ESTERS
Derived from JoJoba and it helps to improve the texture of the mascara
JOJOBA SEED OIL
Conditions and provides texture to the mascara
ISOPROPYL PHENYLHYDROXYPENTENE DIHYDROXYCYCLOPENTYLHEPTANATE
Conditioning Agent