LiLash Eyelash Conditioning Serum

Free Overnight Tracked Delivery
Are you ready for the compliments?
"Your lashes are so long! Are they real?" you'll hear your friends say. The answer is yes!
Used daily for 4-6 weeks, LiLash will give you the longest, fullest lashes you've ever had.
Long, sweeping lashes in 4-6 weeks
Physician formulated & clinically tested
Non-irritating
Doesn't sting. Safe for sensitive eyes
Less natural breakage than extensions
You too can experience the joy of long, luscious lashes like thousands of delighted Beauty Lounge customers!
Size: 5.91ml (6 month supply)
Only The Beauty Lounge gives you:
90 Day Longer Lashes Money Back Guarantee
Post-purchase email with important advice and tips
Authentic, new, fresh stock from offical NZ supplier
5+ years of LiLash sales experience and advice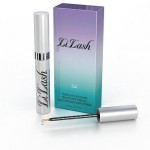 LiLash & LiBrow Packaging Update
The new black packaging for LiLash and LiBrow was launched in August 2014.  Please be aware that product sold in the old packaging (pictured left) will be at least a year old. Expired LiLash and LiBrow is ineffective and potentially dangerous to use. Always buy new, fresh, genuine LiLash and LiBrow in the new black packaging.
Learn more about LiLash
LiLash is the worlds most powerful and fastest-acting eyelash conditioner. LiLash has been clinically tested and proven to naturally lengthen lashes in 4-6 weeks.
LiLash is the only non-irritating lash conditioner on the market making it safe for even the most sensitive eyes.
Your eyes are the windows into your soul and they should always look their best. LiLash frames your eyes in long, sweeping lashes to create a centerpiece for a stunning look that can entice all the right attention.
Usage Directions
Lilash is an active product. Wipe all excess from the brush, as more serum does not mean more lashes; it means more chance of irritation. Please use every other day in the morning for the first four applications.
It is normal for some people to get a red/pinkness to the eyelid when first used. This is normal and will reduce quickly.
One thin coat in the morning on the eyelid at the base of the lashes is all that's needed.

Once used as above then use daily for 4 – 6 weeks. Your lashes will start to be visibly longer. Once your lashes are at the length you want, use 1 – 3 times per week or every other day to maintain the length.
You can apply mascara after Lilash has been applied. Just wait 2-3 minutes for the Lilash to dry and then apply mascara as normal.
Commonly Asked Questions
Yes!  We have ever only sold genuine LiLash and get it directly from the official New Zealand distributor – BeautySpot. There is a lot of fake/counterfeit and expired LiLash on the market at very cheap prices.  It it sounds too good to be true, it probably is and could be harmful or simply not work.
Results can appear as quickly as 3-4 weeks, but in some cases can take 8-12 weeks. Patience is the key; stick with it – the results will come!
The first container of LiLash lasts for approximately 5 – 7 months because you use it every day. Your second tube will last 9 – 12 months as you will be using less frequently to maintain your eyelash length.
Yes. You can apply mascara after Lilash has been applied. Just wait 2-3 minutes for the Lilash to dry and then apply mascara as normal.
Yes, you can start using LiLash with your current eyelash extensions in. When your eyelash extensions are removed, we recommend you not replace them to enable LiLash to grow and shape your eyelashes naturally.
Testing of LiLash has been extensive, but it has not been tested during pregnancy.
If you stop using Lilash your lashes will grow back at their normal rate.
Lilash is formulated to be non-irritating, however if you have sensitive eyes or suffer from any type of skin disorder, you will be purchasing Lilash at your own risk.
The skin surrounding your eyes is highly sensitive. Certain individuals may be sensitive to one or more of the ingredients in LiLash. If mild or moderate redness or irritation occur, discontinue use of the product at least temporarily until symptoms resolve. Mild irritation can occur with incorrect application of LiLash
The shades of green and blue that make your eye colour unique to you will remain the same with correct application of LiLash. We've never received any reports from our customers of a change in their eye colour with proper application of LiLash. Any reports you see of changing eye colour are likely placed by competing brands and/or companies looking to detract from LiLash's dominance in the market.
Some customers have noted a slight darkening of the skin on the eyelid where they have applied LiLash over a prolonged period of time. In most situations this will naturally fade with discontinued use of the product.
Water/Agua/Eau, Glycerin, Hydroxyethylcellulose, Prunus Amygdalus (Sweet Almond) Extract, Hydrolyzed Lupine Protein, Panthenol, Isopropanol Phenylhydroxypentene Dihydroxycyclopentylheptenate, Silica, Chlorphenesin, Caprylyl Glycol.
Absolutely, categorically, no!
LiLash has been featured in